PAL Portable Aquatic Lift with Armrests 300 lb. Capacity
Item: AQ-200-0005
The ADA-compliant PAL is a completely portable aquatic lift, requiring no mounting to the pool deck. It contains over 700 pounds of counter weight to support a lifting capacity of 300 pounds. The PAL is perfect for facilities that need a lift for multiple locations or would like to store the unit away when not in use.
This unit is powered by a rechargeable battery and can be operated by the user via a waterproof hand control. The PAL is constructed of stainless steel and aluminum and is powder coated for maximum durability.
This PAL comes with a battery, charger, battery console cover, waterproof control, footrest, armrests and seatbelt assembly.
300 lb. lifting capacity.
Completely portable—no deck fixtures!
Easy to move by one person.
User-operable via waterproof hand control.
240 degree rotation ensures a safe transfer area.
Verified by a third party to meet ADA standards.
Limited three-year warranty on the frame. Two-year electronics warranty.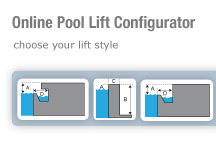 The PAL Secure-It Kit™ is specially designed to quickly and easily secure the PAL to the deck per the Technical Assistance Bulletin published by the Department of Justice on January 31, 2012. The PAL Secure-It Kit includes all the hardware necessary to give owners the option of securing the lift to the deck using an anchored solution. All new purchases of the PAL Lift include the PAL Secure-It Kit.
Customers that purchased a PAL lift after January 31, 2012, and did not receive a Secure-It Kit, can contact S.R. Smith customer service at (800) 824-4387 to receive a PAL Secure-It Kit free of charge. (Customers must provide dated copy of purchase order to receive free kit.) The PAL Secure-It Kit is available for purchase for customers who purchased lifts prior to January 31, 2012. Part No. is 200-1090A.