PAL SERIES POOL LIFTS
Item: PAL_LIFT
Product Line Information | Show Products From This Line ▼
The ADA-compliant PAL is a completely portable aquatic lift, requiring no mounting to the pool deck. It contains over 700 pounds of counter weight to support a lifting capacity of 300 pounds. The PAL is perfect for facilities that need a lift for multiple locations or would like to store the unit away when not in use.
The PAL units are powered by a rechargeable battery and can be operated by the user via a waterproof hand control. The PAL is constructed of stainless steel and aluminum and is powder coated for maximum durability.
All PAL Portable Lifts come with a battery, charger, battery console cover, waterproof control, footrest and seatbelt assembly. Several models are available that include armrests, activation key, Hi/Lo and California package.
300 lb. lifting capacity.
Completely portable—no deck fixtures!
Easy to move by one person.
User-operable via waterproof hand control.
240 degree rotation ensures a safe transfer area.
Verified by a third party to meet ADA standards.
Limited three-year warranty on the frame. Two-year electronics warranty.
Independently Verified to Meet ADA Standards!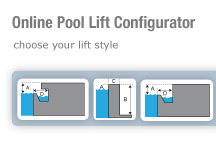 If you need a written quote, contact us at 800-446-6416 for your own special customer discount.