SPLASH SERIES POOL LIFTS
Item: SPLASH_LIFT
Product Line Information | Show Products From This Line ▼
The ADA-compliant Splash! is a removable aquatic lift that requires a square deck anchor. It supports a lifting capacity of 400 pounds. The Splash! is perfect for facilities seeking to provide user-friendly access to their swimming pool.
The Splash! is constructed of stainless steel and aluminum and is powder coated for maximum durability. It is powered by a rechargeable battery and can be operated by the user via a waterproof hand control.
All Splash! Lifts come with a battery, charger, battery console cover, waterproof control, stainless steel anchor socket with cover and spanner key, footrest and seatbelt assembly. Several models are available that include armrests, activation keys, California Package, Extended Reach, Hi/Lo and more. Click on one of the models you may be interested in to see a full listing of features included.
400 lb. lifting capacity.
Easily removable from anchor (semi-permanent installation).
User-operable via waterproof hand control.
359 degree rotation ensures a safe transfer area.
Verified by a third party to meet ADA standards.
Limited three-year warranty on the frame. Two-year electronics warranty.
Independently Verified to Meet ADA Standards!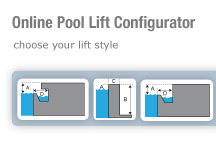 If you need a written quote, contact us at 800-446-6416 for your own special customer discount.